Free Group Meditation
Everybody is welcome to join our regular free Group Meditation Sessions here in Phuket. We are offering this experience to all who enjoy meditating together with like-minded people, receive guidance, ask questions and learn more about the subject. It is our priority to transmit the methods in an authentic and clear way, so that everybody may understand and access the practice with ease. So come and join us – we look forward to explore the mind together with you.
Important Information
This is a heads-up that the center will be closed from April 1st – 28th 2023. In April there will be no events or classes except for the One Day Retreat on the 29th. Maybe we see you there. We wish you all a nice break!
Important Information
The center will be closed until December 3rd, 2023 as we are on retreat. During this time there will be no free group classes. We are sorry for any inconveniences and look forward to see you all again after our retreat 🙏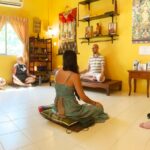 All Upcoming Sessions
We update this page up to 3 hours before the sessions. In order to know whether classes are on or cancelled, Please make sure to check again right before you want to come!
Teachings
While the teachings are mostly based on the Buddhist path, they are presented in terms of universal mechanics. These basic principles are accessible to everyone and circle around three main trainings: Character Cultivation, Meditation (Samadhi) and Insight (Vipassana).
Teacher
The background and personal practice of our teacher are rooted within two Buddhist lineages – the Tibetan and the Thai Tradition. Since early 2002, Tobi has studied and practiced meditation in and outside of temples. His practical teachings are known to inspire direct experience.
What to Bring
We recommend to bring loose-fitting and decent (cover shoulders and knees) clothes that allow you to sit comfortably in a cross-legged position. Yoga or training clothes are usually just fine. We have enough mats and cushions, but it's totally fine if you like to bring your own. For those who are unable to sit on a mat with crossed legs, we also provide chairs.
How to Find Us
If you want to find your way to us please check out the Map & Directions to our Free Classes. Those of you who are coming with a driver please make sure to let him or her call +66 87 279 7655 to ask for directions. Addresses don't help the local drivers much – they need the description from us. Make sure to arrive at the center at about 10 minutes before class starts.
Any Questions?
Let us know if you have any questions. We are happy to help!